Windows 10 Aggiornamento Anniversario con Windows 10 Redstone 2 è disponibile per tutti gli utenti di Windows 10 per download gartuitamente Redstone 2 ISO e installare nei loro computer ora. Sei pronto per ottenere questo nuovo aggiornamento grande e godere di funzionalità nuove nel tuo PC ora? Qui, troveresti i dettagli a passo a passo per download e aggiornare a Windows 10 Redstone 2 build con ISO ora.
Passo 1. Backup sistema e dati prima di scarica aggiornamento Windows 10
Prima di scaricare o installare nuovo aggiornamento anniversario di Windows 10 Redstone 2 nel tuo PC, ti consiglia caldamente di creare il sistema e backup i dati prima. Questo ti aiuterà ad evitare il problema di perdita dei dati o fallimento dell'aggiornamento del sistema o errore di crush durante il processo di aggiornamento di Windows 10 Redstone.
Software professionale di recupero di backup di Windows - EaseUS Todo Backup renderà più semplice e facile per te di backup tutto il sistema e i dati importanti nel tuo PC. Puoi seguire come backup Windows 10 per creare gratuitamente il sistema e backup i dati ora.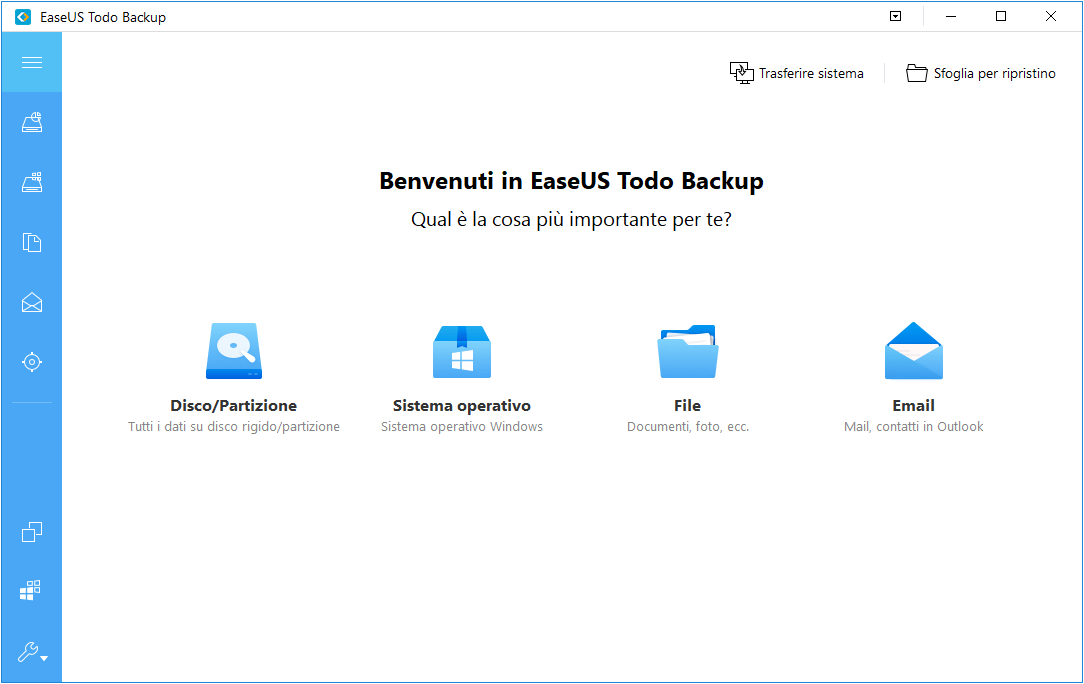 Passo 2. Troubleshoot errore di aggiornamento bloccato di Windows 10 Redstone 2
Per ottenere un processo di aggiornamento del sistema liscio con Windows 10 Redstone 2, è necessario eseguire cmd per troubleshoot i problemi di aggiornamento del sistema con Windows Aggiornamento prima. Dopo aver fatto questo, puoi download download Windows 10 Redstone nel tuo PC facilmente:
Inserire: troubleshooting nella ricerca > Andare a System and Security > Cliccare Fix problems with Windows Update;
Cliccare Advanced > Abilitare e verificare Apply repairs automatically;
Cliccare: Run as administrator (potrebbe essere necessario inserire il codice di accesso prima) > Poi cliccare Next per terminare il processo.
Passo 3. Windows 10 Redstone 2 download​
È possibile scegliere di installare Windows 10 Redstone 2 con i file di ISO o raggiungere direttamente l'accesso all'aggiornamento di Windows 10 Redstone 2 da PC:
Download e installare Windows 10 Redstone 2 con ISO:
Se preferisci direttamente a download e installare Windows 10 Redstone 2 nel tuo PC, puoi cliccare i link qui sotto per download ISO file e seguire le indicazioni sullo schermo per installarlo nel tuo PC.
Download Windows ​10 Redstone dal sito di Windows Aggiornamento Catalogo
È possibile digitare direttamente gli aggiornamenti desiderati di KB di relativo Windows 10 Redstone 2 builds come KB3206632, ottieni i file ISO desiderati per il tuo sistema.
Scarica aggiornamento Windows 10:
Andare a Impostazioni > Cliccare Aggiornamento & sicurezza > Cliccare su Windows Aggiornamento;
Cliccare Controlla per aggiornamenti > Quando le generazioni nuove sono controllate e trovate, cliccare: Scarica ora.
Note: Ricordi di lasciare 2 o 3GB per la partizione di sistema e 500MB per la partizione di sistema riservato.