Come recuperare dati persi da Samsung Knox
Sommario:
Strumento di recupero Samsung My Knox ti aiuta a recuperare dati persi da Knox, come contatti, immagini, foto, documenti, ecc.
Come Gestire/Backup/Spostare file a Samsung My Knox?
Samsung My Knox è un'applicazione che permette gli utenti di spostare file come documenti Word, immagini, contatti, email, file vocale, ecc da spazio personale a My Knox (container). I dati salvati in knox sono completamente crittografati e nessuno può concedersi i diritti di accesso o sblocco senza la password, il pin o l'impronta digitale.
Per spostare file a My Knox:
1. Evidenzia o controlla il file desiderato premendo a lungo.
2. In alto a destra sullo schermo, tocca il pulsante Altro.
3. Seleziona Sposta in modalità personale o Sposta in Knox.
Come eseguire un backup o recuperare dati persi da Knox?
C'è un'opzione di "backup and restore" per evitare la perdita di dati in Knox. Per fare un backup o ripristino, hai bisogno di account Samsung.
1. Apri l'applicazione My Knox 
2. Seleziona Impostazioni Knox
3. Seleziona Backup and restore
Se i dati e file Knox vengono eliminati, puliti, rimossi, puoi usare questa opzione per ripristinare dati da backup di Knox. Se non abbia nessun backup, puoi ricorrere a un software di recupero dati per Samsung.
Come recuperare dati persi da Knox senza Backup?
Dato che i tuoi dati come contatti, immagini, documenti, musica, video, email, ecc, salvano originalmente nello spazio personale come la scheda di memoria, EaseUS MobiSaver per Android può aiutarti a recuperare dati originali. La parte di seguito è il processo di recuperare dati persi da Samsung.
Passo 1. Collega Samsung al computer e lancia EaseUS MobiSaver, fai un clic su "Scansione".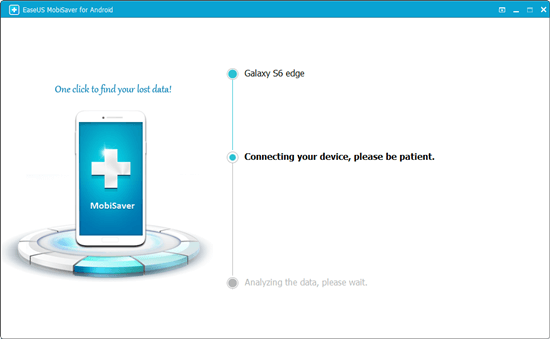 Passo 2. Il software esegue una scansione per trovare dati persi.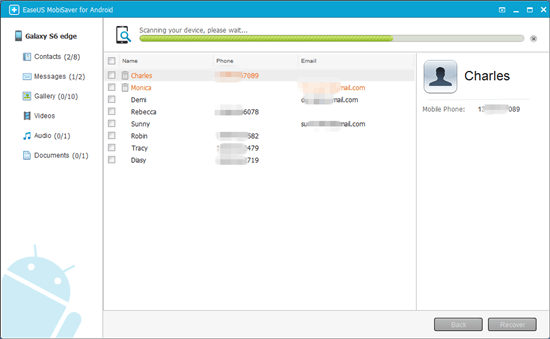 Passo 3. Recupera i dati trovati.