Sommario
La funzione Windows To Go di Windows 10/8/7 è disponibile solo sull'edizione Enterprise. Con EaseUS OS2Go, l'alternativa a Windows To Go, puoi mettere Windows To Go di Windows 11/10/8/87 USB senza l'edizione Enterprise.
Punti chiave riguardo Windows To Go:
#1. Windows To Go è una funzione delle versioni di Windows 8 Enterprise, 8.1 Enterprise, 10 Education e 10 Enterprise precedenti all'aggiornamento di Maggio 2020.
#2. Windows To Go rende possibile l'avvio di Windows da drive USB esterni e Hard Disk esterni.
#3. I dispositivi USB esterni devono essere riconosciuti come compatibili da Microsoft. Di seguito una lista di drive USB compatibili.
Imation IronKey™ Workspace W300 / W500 / W700
Kingston DataTraveler Workspace
Spyrus Portable Workplace
Spyrus Secure Portable Workplace
Spyrus WorkSafe
Super Talent RC4/ RC8
WD My Passport Enterprise
In generale, Windows To Go ti permette di copiare un sistema operativo installato su un drive USB portatile ma con alcuni requisiti da rispettare quali l'edizione Windows Enterprise, un drive USB compatibile e di fatto un altro hardware USB 3.0 sul tuo PC.
Ciò significa che non puoi utilizzare l'USB con Windows To Go su un computer senza l'edizione Enterprise? E se non dovessi avere a disposizione un drive USB compatibile? Puoi comunque realizzare un drive USB con su installato un sistema operativo di qualunque tipo?
Quando perdi accesso alle applicazioni integrate, prova alcune alternative di terze parti. Con EaseUS OS2Go, l'alternativa a Windows To Go, puoi creare un USB con Windows To Go per Windows 11/10/8/7 senza l'edizione Enterprise.
Che cos'è EaseUS OS2Go?
E' un programma chiaro e leggero che permette agli utenti Windows di creare drive USB portatili con su installato Windows. E' stato sviluppato da un'Azienda Tech che si chiama EaseUS. Potresti aver sentito alcuni dei suoi migliori prodotti ad esempio Data Recovery Wizard, Partition Master, Todo Backup e Todo PCTrans, ecc.
OS2Go è totalmente compatibile con Windows 11, l'ultimo sistema operativo di Windows. Non importa quale versione o edizione di Windows tu stia utilizzando, o quale dispositivo USB, potrai mettere tranquillamente il sistema operativo sul drive USB senza fare lavoro extra.
Oltre alla possibilità di creare USB con su Windows To Go su edizioni non enterprise, EaseUS OS2Go può impressionarti in diversi modi.
Avvia e installa Windows 11 su computer con hardware non supportati
Avvia Windows su Mac
Clona sistema operativo e programmi/giochi installati sul drive USB
Ti permette di giocare ai giochi Windows su MacOS
Guida passo per passo per creare un USB con su Windows To Go su edizioni non enterprise
Passo 1. Installa EaseUS OS2Go sul tuo computer Windows, ti mostrerà lo spazio usato nel tuo disco di sistema. Inserisci una memoria USB di capacità maggiore di quella occupata dal sistema nel disco rigido. Seleziona la memoria USB di destinazione e premi Avanti per continuare.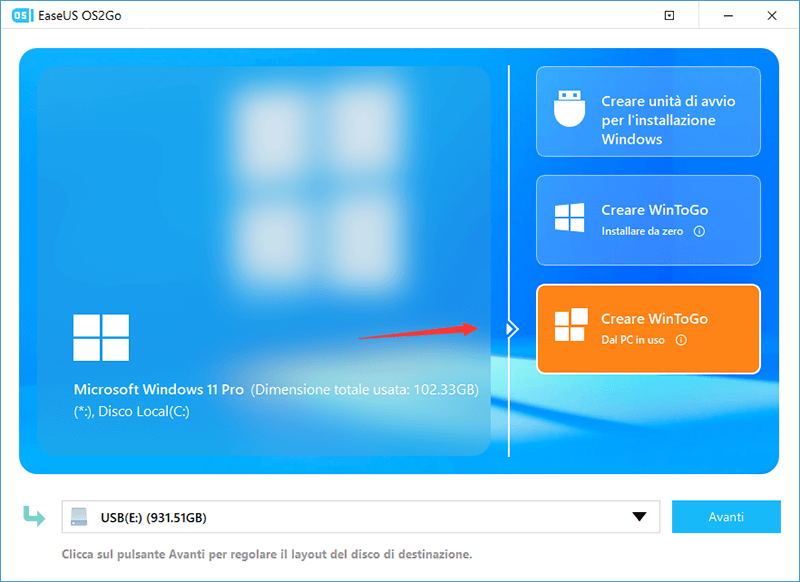 Passo 2. EaseUS OS2Go ti avviserà che l'operazione seguente cancellerà tutti i dati nel dispositivo. Assicurati di aver eseguito un backup di tutti i dati importanti. Premi il pulsante Continua per procedere.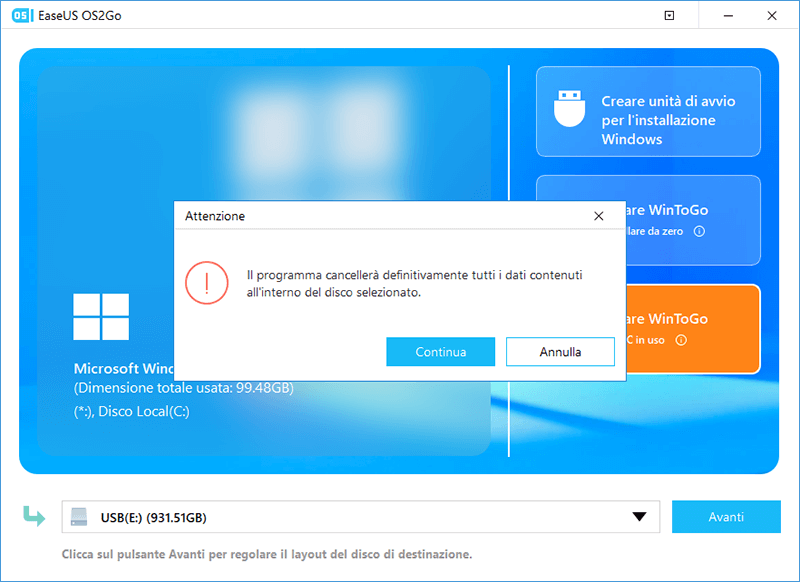 Passo 3. Sistema il layout del disco. Il layout predefinito della memoria di destinazione sarà esattamente uguale a quello della memoria di partenza. Puoi anche modificare il layout a seconda delle tue necessità. Spunta l'opzione adeguata se stai utilizzando un disco a stato solido come disco di avvio di Windows. Poi , fai clic su Procedi.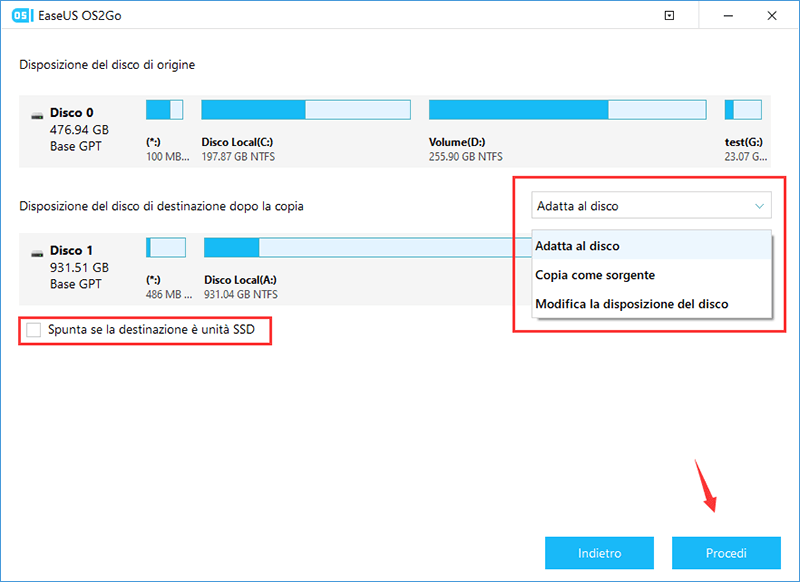 Passo 4. Ora EaseUS OS2Go inizierà a creare la tua USB avviabile portatile. La durata varia in base alle condizioni di rete e del sistema operativo. Quando arriverà al 100%, il drive USB sarà utilizzabile.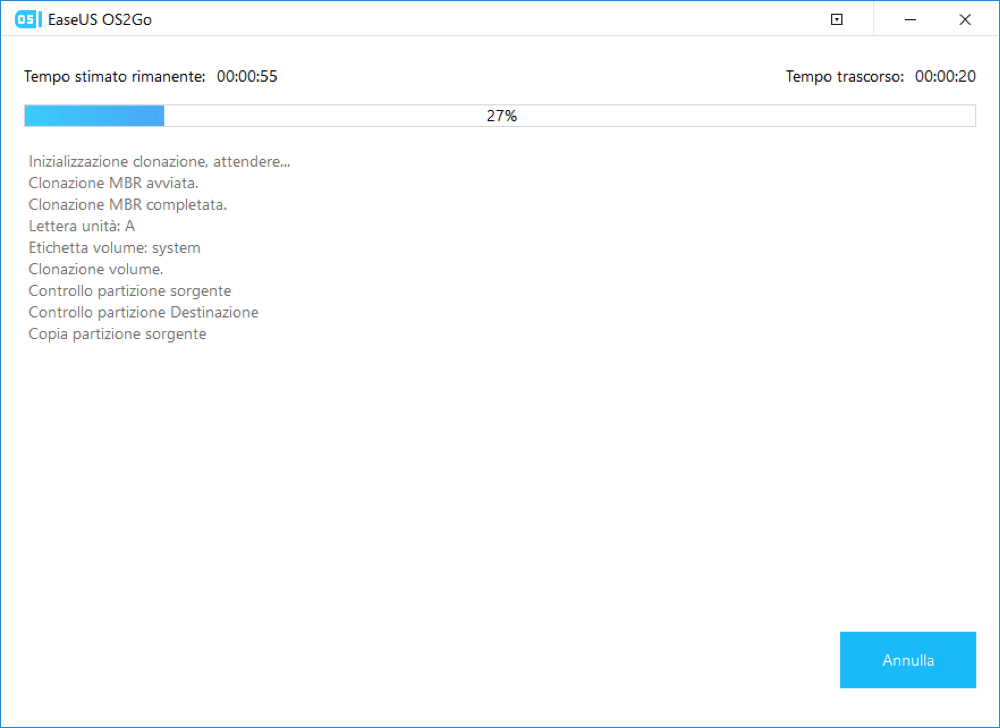 Passo 5. Inserisci la memoria USB con Windows portatile e avvia il tuo computer. Premi i tasti appositi (F2, Canc, F10...) per accedere al BIOS. Seleziona l'avvio dal drive USB.
Nota:Assicurati che la modalità d'avvio (UEFI o Legacy) dell'USB portatile e del computer siano uguali, altrimenti potresti non essere in grado di avviare.

EaseUS OS2Go
Creare Windows portabile su USB
Copiare Windows installato su USB
Clonare disco di sistema Windows su USB
Eseguire Windows 11 su qulsiasi PC
Eseguire Windows 11 su PC non supportato
Eseguire Winodows 11/10 su Mac
Scarica Subito